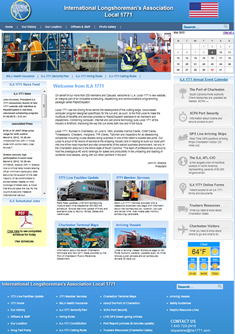 The local union website is a tool used to communicate with the membership and serves as a public relations vehicle for the general public. Each interactive union website is a vital component of RapidDispatch. Dedicated to serve Local members, the website is customized for each union… complete with a personal web page for every union member. ILA subscriber websites provides dedicated RSS feeds from RapidDispatch, the local Ports Authority, Harbor Pilots (GPS tracks arrival of container ships), Global Marine Traffic, NOAA, the Associated Press and local news feeds.
Individual member benefits on each subscriber website include:
A personal web page for each member lists current job assignments for one or five days; the past 30 days and an archived 36-month work history calendar. Optional weekly/monthly payroll earnings reports.
A Live Facilities Update displays current jobs – both filled and available – in real time. Home Page displays link to printable Daily Schedule.