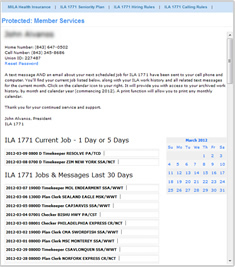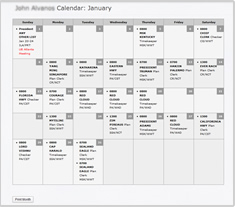 Member Services Website provides easy link to Individual Member Web page
Member Web Page displays next scheduled job for one day or five days, showing time, date, locations (up to 2 locations) and Stevedoring Company.
Validates and archives dispatcher/member contact: Web page records and archives time/date of transmission of each scheduling text message and/or email scheduling messages. Displays last 30 days time/date text message OR email with job schedule for next day or week sent to member's SmartPhone or email box.
Monthly Member Work Calendar displayed on member web page. PAST work for current month displayed on a 30 Day calendar. All previous Work Calendars for 36 months, archived and available with search feature.